Army Corps of Engineers awarded the $27.6 million contract to Brice Engineering on Nov. 10. It calls for the contractor to clean up 130,000 cubic yards of contaminated soil excavated during construction of eight F-35 fighter jet construction facilities at Eielson. The contractor will employ a process called "soil washing" to extract enough of the PFAS to meet the state's cleanup standard.
Eielson Air Force Base (AFB) is an active installation established in 1944. The mission of the base is to train and equip soldiers for close air support of ground troops in an arctic environment (Eielson AFB, 2005). Eielson AFB is located approximately 25 miles southeast of Fairbanks, Alaska.
The Base extends for 19,700 acres, most of which is forest, wetlands, lakes, and ponds beyond the approximately 3,650 acres which have been improved or partially improved, and are used for the bulk of Base activities. The base is located on the Tanana River floodplain and the slopes of the Yukon-Tanana uplands. Approximately 5,500 people live on base, with other personnel living in the nearby communities of North Pole, Salcha, and Moose Creek. The groundwater resources on base are used for drinking water and industrial, domestic, agricultural, and firefighting needs.
Historical operations at Eielson AF have generated varying quantities of hazardous and nonhazardous wastes from industrial and airfield operations, fire training, and fuel management. On 21 November 1989, the EPA listed Eielson AFB on the National Priorities List (NPL) of federal Superfund sites by the Environmental Protection Agency. In the 1994 Remedial Investigation and Feasibility Study for Eielson AFB, 66 source areas of possible contamination were found. These sites are evaluated through the Comprehensive Environmental Response, Compensation, and Liability Act (CERCLA).
In the 1995 Record of Decision for Eielson AF, 29 areas were divided into six Operable Units (OU) based on common characteristics or contaminants, and 31 other areas of contamination were evaluated through a source evaluation process (SER). A seventh OU (the Sitewide OU), which contains one source area (SS67) was added after the Federal Facilities Agreement (FFA) was signed. The remaining contaminated sites are addressed through ADEC regulations.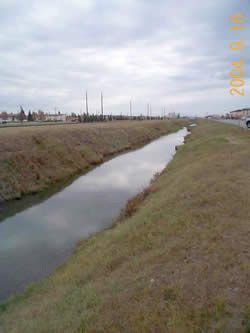 At Garrison Slough, PCB contamination has impacted the sediments and fish tissue. A fishing restriction is in place for Garrison Slough.
Public Health and Environmental Concerns
Groundwater has been contaminated with lead, volatile organic compounds (VOCs) such as trichloroethylene (TCE), benzene, tetrachloroethylene (PCE), and per- and polyfluoroalkyl substances (PFAS). Used oils, solvents, fuels, and PFAS-containing substances such as various fire suppression foams have been discharged onto the ground, into surface water, or into the soil. Polychlorinated biphenyls (PCBs) and pesticides have been identified in soils and sediments at Garrison Slough. PFAS compounds have been identified at levels above the Environmental Protection Agency (EPA) lifetime health advisory (LHA) of 70 parts per trillion for the sum of 2 PFAS compounds, perfluorooctane sulfonate (PFOS) and Perfluorooctanoic acid (PFOA). Exceedances of the EPA LHA have been identified in groundwater and in surface waters including Garrison Slough, Polaris Lake, Spruce Lake, Moose Lake, and Bear Lake on base. PFAS contamination in groundwater extends off of Eielson AFB, and into the community of Moose Creek. Surface waters at Moose Creek, northern end of Piledriver Slough, and Cathers Lake exceed the EPA LHA. Fish tissue samples collected from Garrison Slough and Polaris Lake indicated detectable levels of PFAS compounds, and 21 of 23 PFAS compounds were detected. People may be exposed to these pollutants through dermal contact, accidental ingestion of contaminated soil or water, or via fish consumed from contaminated waterbodies.
In July 2020, the Centers for Disease Control and Prevention (CDC), and the Agency for Toxic Substances and Disease Registry (ATSDR) began a PFAS Exposure Assessment for the community of Moose Creek, due to concerns for PFAS in groundwater, and potential human health exposure to PFAS contaminated groundwater being used for drinking water in Moose Creek.In May 2022, ATSDR released the results of the PFAS Exposure Assessment for the community of Moose Creek. Elevated blood levels of PFHxS and PFOS in the Moose Creek EA participants in comparison to national levels may be linked with past drinking water contamination.  ATSDR held a meeting with the community on June 7, 2022 to discuss the results of the PFAS Exposure Assessment.
In June 2022, EPA released new interim LHA values for PFOA and PFOS of 0.004 parts per trillion and 0.02 parts per trillion. Exceedances and potential exceedances of the interim LHA are being investigated in the groundwater surrounding the base.Summaries of actions related to PFAS and attached documents related to investigating and addressing PFAS on Eielson AFB can be found at site 107.38.150, Eielson AFB Basewide (AKA Sitewide) PFAS. This DEC site exists to capture progress and available information on the PFAS contamination directly within the Eielson Airforce Base boundaries and the extent of the plume offbase. As documents related to the site are finalized, they will be added to this location to be available to the public for viewing. 
Current Status
Remediation activities occurred during the 1990's at many of the contaminated sites on Eielson AF. Petroleum-contaminated soil was excavated and treated by landfarming. Soil caps were installed to prevent human exposure to contamination and limit the transport of contamination. Other sites had active remediation systems installed such as soil vapor extraction, bioventing, and free-product recovery wells.
Records of Decision (ROD) were developed and approved for six operating units (OUs) during the early 1990's, and many of the potential sites were found not to pose an unacceptable risk to human health and the environment and were closed by EPA and ADEC (the five-year Record of Decision Review for 2003 describing this action is available on the Eielson website). Several sites were given a conditional closure and were placed under institutional controls to prevent people from being exposed to any remaining contamination. As of the 2013 Five Year Review, it was determined that a number of sites had not been adequately characterized or mitigated, though RODs were in place. Subsequently, sites without adequate characterization or mitigation were reopened for additional characterization and evaluation of the remedy in place.
In 2015, the United States Air Force (USAF) initiated a supplemental remedial investigation-risk assessment (RI-RA), and workplans were developed for each of the six OUs to address the need for additional data and/or mitigation. As of 2020, the RI-RA reports are being finalized, and the new information from those reports are being evaluated in feasibility studies to determine appropriate remedies to mitigate risks from identified contamination. As of 2022, the RI-RA reports are finalized. USAF has begun developing workplans for Supplemental RI/RA data gaps investigations DEC and EPA are currently reviewing the work plans. 
In the spring of 2015, sampling of drinking water supply wells at Eielson Air Force Base revealed the presence of the chemicals perfluorooctanoic acid (PFOA) and perfluorooctanesulfonic acid (PFOS) at levels exceeding the U.S. Environmental Protection Agency's (EPA) Provisional Health Advisory (PHA) level. In 2016, EPA adopted the Lifetime Health Advisory (LHA) for PFOS and PFOA, PFAS compounds are emerging contaminants, or chemicals with limited data on human health effects. They are ingredients found in many waterproofing products, nonstick compounds, and various fire-fighting foams. Contamination from PFAS likely originates from historical fire-fighting foam use at Eielson AFB. Mitigation efforts to date include installing granular activated carbon (GAC) filtration for Eielson AFB's drinking water wells and on many homes in the Moose Creek community who consented to have such systems installed. Homes in Moose Creek not on a GAC treatment system receive an alternate water supply either via bottled water or water delivery to a holding tank. In June 2019, the USAF, EPA and DEC signed an Interim-ROD for Moose Creek that provides an interim remedy to protect human health by addressing the drinking water exposure pathway. The approved interim remedy is to provide a piped water system from the City of North Pole water treatment plant to the residents within the community of Moose Creek. As of Fall 2020, upgrades to the City of North Pole water treatment plant have been made to allow for the treatment of the additional volumes of water required. Supply lines have been installed, a storage tank and a Moose Creek pump house have been built, and 80% of the distribution lines have been installed in Moose Creek. As of Spring 2022, 174 of 194 households are now receiving piped water and Eielson AFB, is continuing to install remaining connections in Summer of 2022. Eielson is also decommissioning previous used drinking water wells and removing treatment systems and water tanks as households are connected to the distribution system. 
At Garrison Slough, polychlorinated biphenyls (PCBs) contamination has impacted the sediments and fish. A portion of the PCBs-contaminated sediments have been excavated, and the PCBs contamination in fish tissue and sediments continue to be monitored. A fishing restriction is in place for Garrison Slough and a physical fish gate restricts the passage of fish into and out of the PCBs contaminated area. A RI-RA is currently in progress to determine the extent of contamination from pesticides, PCBs, PFAS compounds, and other contaminants for overall impacts to Garrison Slough. Additional sampling of soil, sediments, surface water and pore water has occurred in 2021 and 2022, and the results are being evaluated for the risk assessment.
The USAF released aqueous film forming foam (AFFF) into Polaris Lake on August 11, 2016. Subsequent to the AFFF release, the USAF conducted sampling for PFOA and PFOS in the surface water and soil at Polaris Lake on August 29, 2016. The maximum concentrations found in Polaris Lake at that time were 19.0 parts per trillion (ppt) PFOA and 249 ppt PFOS which are above the EPA LHA of 70 ppt. Soil surrounding Polaris Lake was also sampled for PFOA and PFOS, and did not have a detection.
On April 3, 2019, the Alaska Department of Fish and Game (ADF&G) issued an emergency order closing sport fishing in Polaris Lake, and renewed the closure on January 10, 2020 (Emergency Order No. 3-R-U-01-20). On April 9, 2020 the ADF&G issued an emergency order to rescind Emergency Order No. 3-R-U-01-20, and open Polaris Lake to catch-and-release sport fishing.
In September 2020, the USAF provided results from sampling completed under the "Expanded Perfluorooctanoic acid (PFOA) and Perfluorooctanesulfonic acid (PFOS) and Perfluorobutane Sulfonate (PFBS) Site Inspection, Uniform Federal Policy- Quality Assurance Project Plan Work Plan, Eielson Air Force Base and Moose Creek, Alaska." Surface water results for the Eielson lakes, Bear Lake and Moose Lake, were confirmed to be above the EPA LHA. On September 24, 2020, the Alaska Department of Fish and Game issued an emergency order restricting Bear and Moose Lakes to catch and release fishing only
On February 9, 2022 ADF&G issued an emergency order (3-R-U-01-22) rescinding Emergency Order No. 3-R-U-01-21 and 3-R-U-02-21. Emergency Order 3-R-U-01-22 closes Kimberly Lake to sport fishing and restricts Bear, Moose and Polaris Lakes, Bathing Beauty Pond, Piledriver Slough, and Moose Creek to catch-and release fishing only for all fish species. Any fish caught while sport fishing in these waters may not be retained and must be released immediately.
State and federal regulatory agencies continue to work with the USAF to ensure protection of human health and the environment. The USAF's activities will include assessment, cleanup and mitigation of contamination, as needed.
The "Expanded Perfluorooctanoic acid (PFOA) and Perfluorooctanesulfonic acid (PFOS) and Perfluorobutane Sulfonate (PFBS) Site Inspection, Uniform Federal Policy- Quality Assurance Project Plan Work Plan, Eielson Air Force Base and Moose Creek, Alaska," was approved by EPA and DEC in September 2019. The inspection is ongoing and has provided information on the extent of PFOS and PFOA in groundwater. The work includes installation of permanent monitoring wells on the PFOS/PFOA plume edge. The known extent of the Eielson and Moose Creek PFOS/PFOA groundwater contamination is depicted on the contaminated sites web map, plume view. The Final Expanded PFOA, PFOS and PFBS site inspection was approved by DEC and EPA on August 8, 2022, and is accessible on the DEC Contaminated Sites database.
A PFOS/PFOA RI-RA is being developed to further investigate the soil, sediments, groundwater, surface water and pore water throughout the Eielson AFB. Fish and other biota will be sampled during the RI-RA effort. Feasibility studies to evaluate appropriate remedies for the soil source areas on Eielson are expected to be submitted during 2022-2023. The RI-RA in progress has included beginning delineation of source areas, 3-dimensional mapping of the groundwater plume and surface contamination, and will provide input to eventual treatment options. Additional field work is being performed in summer of 2022 and includes further delineation of the horizontal and vertical extent of groundwater contamination to inform a hydrogeologic model. Further sampling, including off base, non-source area soil sampling in Moose Creek is planned for summer of 2023.
Sites with remedies in place at Eielson AFB that have groundwater contamination are in the sitewide monitoring program to ensure the contaminant plumes are stable or decreasing. Several sites are still being treated by active remediation systems. Institutional controls, such as restriction of groundwater use in certain areas, treatment systems on drinking water wells, fishing advisories, and dig restrictions, are in place at Eielson AFB to prevent exposure to remaining contamination.
Contaminated Sites Database reports
There are a number of individual contaminated sites on the base, and reports on the status of each is available on DEC's database. To see more, go to our database page and choose "Eielson AFB" in the City field. The list below are a number of the major ones. We have a glossary available to help you with any acronyms used in the reports.