Chemical Insights Research Institute (CIRI) of UL Research Institutes and Emory University's Rollins School of Public Health recently announced upcoming research to study human exposure to per- and polyfluoroalkyl substances (PFAS). Data from the Centers for Disease Control and Prevention (CDC) show that approximately 97% of Americans have detectable PFAS levels in their blood. The joint study aims to understand how this exposure occurs and the potential health consequences.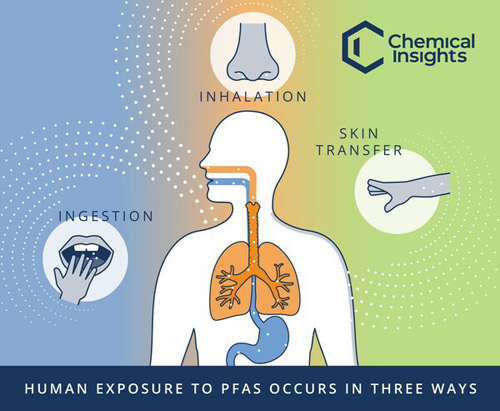 Although humans may be exposed to PFAS by ingesting food or water or breathing air contaminated with these chemicals, limited studies have focused on the use of everyday consumer and occupational products containing these chemicals and whether this presents a human exposure risk. Certain performance textiles, including consumer and occupational wearables, and those used for upholstered furniture and interior furnishings, often have PFAS chemicals added for durability and protection from soil and moisture.  
According to Dr. Marilyn Black, vice president and executive director of CIRI, "there are thousands of different PFAS, commonly known as 'forever chemicals' with widespread usage and application in our everyday products. The same properties that make PFAS chemicals attractive for consumer and commercial use contribute to their long-term persistence in human bodies."
Limited studies have shown that fetal development and cognitive and mental capacity of young children may be altered by PFAS chemicals, and some have demonstrated weak links between PFAS exposure and the development of certain cancers. There is also mounting evidence that PFAS may negatively affect male and female reproductive health.
CIRI's research will focus on the presence of PFAS in textiles including consumer wearables and firefighter gear and how those chemicals present a human health risk. According to Dr. Dana Barr and Dr. Barry Ryan, professors in the Rollins School of Public Health and co-principal investigators, "research emphasis will include identification of specific PFAS chemicals in the materials, their levels, and how they can potentially enter the human body. To our knowledge, this study will be among the very first to focus on exposure to PFAS through contact with textiles. Knowledge of such exposures can lead to a better understanding of the role of such materials in aggregate exposure to these ubiquitous chemical compounds."
Emory will contribute its expertise in identification and measurement of the PFAS chemicals and CIRI will apply its human exposure chambers and techniques to evaluate inhalation, ingestion, and dermal transfer opportunities from use of the products. Insights gained will assist in understanding potential health impacts and how material design, and use, contribute to human exposure risks. This information may lead to strategic risk reduction measures.   
The cutting-edge PFAS research that CIRI and the Rollins School of Public Health is conducting supports UL Research Institutes' goal to advance safety science for societal well- being.
About Chemical Insights Research Institute
Chemical Insights Research Institute (CIRI) of UL Research Institutes is a nonprofit organization dedicated to scientific research, publication, education, and communication on environmental exposures resulting from technologies and practices, their impact on human health, and processes for reducing health risks. CIRI provides actionable data and resources to help manufacturers, educators, healthcare providers, and consumers make informed environmental health decisions and risk reduction strategies for the protection of human health.
Learn more at chemicalinsights.org
Read the full Strategic Research Initiative Technical Brief here.
Read Science Insights here.
About Emory University's Rollins School of Public Health
For more than 30 years, Emory University's Rollins School of Public Health has served as a leader in public health education, innovative research, and global collaborations. Ranked No. 4 by U.S. News & World Report, faculty and students regularly partner with organizations within Atlanta and around the world to promote health and prevent disease locally, nationally, and globally. Students gain real-world experience working alongside award-winning faculty and in collaboration with leading public health organizations through applied practice experiences, the Global Field Experience program, and Rollins Earn and Learn. Students can earn a master's degree, doctoral degree, dual degree or certificate at Rollins through six academic departments: Behavioral, Social, and Health Education Sciences; Biostatistics and Bioinformatics; the Gangarosa Department of Environmental Health; Epidemiology; Health Policy and Management; and the Hubert Department of Global Health. The school also has an Executive MPH Program for working professionals which is delivered in an on-campus/online hybrid format. The Laboratory of Exposure Analysis and Development in Environmental Research (LEADER) is the school's primary analytical research laboratory measuring environmental chemicals in multiple matrices and clinical biomarkers of importance. LEADER was established collaboratively in 2010 by Drs. Dana Barr and Barry Ryan, professors in the Gangarosa Department of Environmental Health.
About UL Research InstitutesUL Research Institutes is a nonprofit research organization dedicated to advancing public safety through scientific discovery. Since 1894, our research has advanced our mission toward a safer, more secure and sustainable future. Focused on global risks from fire mitigation and air quality to safe energy storage and digital privacy, we conduct rigorous independent research, analyze safety data and partner with experts to uncover and act on existing and emerging risks to human safety.
Discover more at UL.org.