Register Today!
---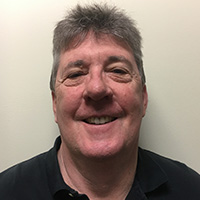 Richard Spiese
Environmental Analyst
Vermont Department of Environmental Conservation
Richard Spiese has a B.S. from The Pennsylvania State University in Geological Sciences. He has been with the Vermont Department of Environmental Conservation, Waste Management Division since 1987. He has taken numerous Master's level environmental engineering course at the University of Vermont. His job duties include overseeing the cleanup of hazardous waste sites in the Sites Management Section, responding to spills on the Waste Management Division's Spill Team, and responding to hazardous materials emergencies as part of the Public Safety Division's Vermont Hazardous Materials Response Team. He has been in the EPA Region I Regional Response Team as the governor's designee since 1992 and on the State Emergency Response Commission since 1994. He has been on the ASTSWMO Leaking Underground Storage Tank (LUST) Task Force 1994 to 2010, and was the co-chair from 1996-2010. He rejoined this Task Force in 2014 and in 2018 stepped down from this position. He joined the Interstate Technology Regulatory Commission Board in 2016 as the State At Large Member. In 2017, he was asked to become the Team Leader Liaison to the Board, which he accepted. At the 2018 Annual Meeting he was elected to be co-chair of ITRC for 3 years, a position he currently has. He is also the writing section lead for aqueous film forming foam (AFFF) for the ITRC per and polyfluoroalkyl substances (PFAS) Technical Document Team. In February of 2016 he began investigation into PFAS contamination in Bennington Vermont, which continues today. In 2020 he became the Team Leader at ITRC for the Hydrocarbons Training Team. This training has just begun in 2022.
---
SESSION CHAIR
Session # 13 Sustainable Firefighting System Cleanout and Transition to PFAS-Free Foams
WORKSHOP PRESENTATION
Status of Findings from ITRC's PFAS Project Team
---