Register Today!
---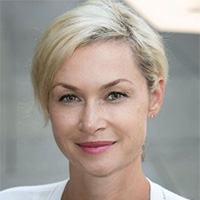 AnnieLu DeWitt
Business Development Manager Remediation Services
Clean Harbors
AnnieLu DeWitt is the National Technical and Sales Lead for the Emerging Contaminant and Water Treatment Program for the Clean Harbors Environmental Services group. AnnieLu brings her 25 years of experience in the environmental laboratory and remediation fields to Clean Harbors to assist clients in interpreting their analytical results to evaluate their options for treatment utilizing varied medias and pre-treatment equipment to achieve project objectives. Having worked as a GC/MS and also most recently as a LC-MS/MS chemist for PFAS compounds she believes in the importance of evaluating the project as a whole, from suggesting the most valuable testing methods at the beginning of the project that help determine the best treatment trains and medias for complex waste streams to informing clients on their options for final deposition of their spent media. AnnieLu DeWitt holds a BS in Chemistry-Geology from Bridgewater State University.
---
WORKSHOP - PLATFORM PRESENTATION
Considerations for Evaluating PFAS Disposal Options
The subject of PFAS waste disposal has become one of the most discussed topics in the industry with many different opinions about the best solution. The EPA Guidance Document for PFAS Disposal did not make recommendations for particular technologies but suggested areas of where there are gaps in data. In response, recipients of this material are having to make decisions without clear and comprehensive guidance. Until clear guidance from Federal, State and Local Authorities has been finalized PFAS material disposal will be a complicated and nuanced subject where decision makers will have to create a disposal policy narrative. Facilities that receive waste are also making decisions based on their own internal policies and some are choosing to direct this material to specific types of facilities or making the decision to not accept PFAS impacted materials at all. This presentation is not meant to direct the practitioner to one option or the other but rather to discuss the practical considerations such as technology acceptance, levels of regulation, discharge control, viability and scalability. It is also important to identify and define what criteria is ultimately chosen to compare options and make a decision about how to dispose of the PFAS impacted materials.
---