Register Today!
---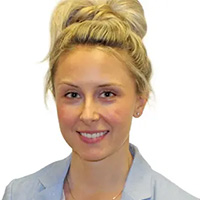 Kasia Grzebyk
Senior Scientist
Environmental & Earth Sciences
Dr. Kasia Grzebyk is a water quality scientist with expertise in the production of potable water from alternative sources, including wastewater effluent and contaminated ground and surface waters. She specializes in high-pressure membrane filtration of both organic and inorganic pollutants, including emerging contaminants such as PFAS, pharmaceuticals, pesticides, and personal care products, as well as salt and boron. She has over 6 years of experience in designing and operating high-pressure filtration systems, as well as in modifying reverse osmosis and nanofiltration membranes for enhanced performance in drinking water production.
Membrane modifications that Dr. Grzebyk regularly implemented centered on the interfacial polymerization reaction, and included the use of various nanoparticles to alter reaction conditions. To assess resulting membrane efficacy in the removal of contaminants of emerging concern, Dr. Grzebyk executed and optimized analytical techniques for contaminant detection. She is also familiar with membrane characterization techniques to evaluate polyamide active layer features, including scanning electron microscopy and transmission electron microscopy.
Dr. Grzebyk's expertise extends beyond the bench. Her field experience includes analyzing surface water for various water quality parameters and collecting ground and surface water for PFAS analyses. Dr. Grzebyk also has a strong background in bridging science to practice and collaborating across boundaries on complex issues. As a graduate student, she was actively involved in science communication, designing and performing STEM outreach activities pertaining to polymer science and water filtration technologies. Additionally, she held several science policy appointments and worked to inform environmental policy by connecting the expertise of researchers at North Carolina universities with the needs of State legislators.
---
Session Chair
Track #4 PFAS Sampling Challenges and Opportunities
---
                                                                                                                  Back to Session Chair Page