Register Today!
---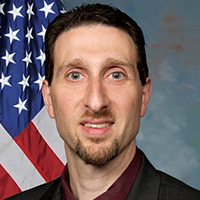 Dr. John La Scala
Chief, Manufacturing Sciences and Technology Branch, Weapons and Materials Research Directorate
DEVCOM Army Research Laboratory
Dr. John La Scala is a polymeric materials and manufacturing expert at DEVCOM Army Research Laboratory (ARL) and he is the in-coming Program Manager for Weapons Systems and Platforms at the Strategic Environmental Research and Development Program (SERDP). He received a B.S. in chemical engineering from the University of Virginia in 1997 and a Ph.D. in chemical engineering from the University of Delaware in 2002. He was a postdoctoral scientist at Drexel University before becoming an Oak Ridge Institute for Science and Education postdoctoral fellow at ARL in Aberdeen Proving Ground, MD in 2003. In 2005, he was hired as a federal employee at ARL, promoted to senior scientist in 2007, and appointed Chief of the Coatings, Corrosion, and Engineered Polymers Branch in 2009, and was appointed as the Chief of Manufacturing Sciences and Technology Branch in 2020.
Throughout his career, he has continued his work in bio-based thermosetting resins, where he now has 25 years of experience. Since joining ARL, he has expanded his work to thermosetting resins for adhesives and coatings and environmentally friendly polymers for composites, adhesives, coatings, and additive manufacturing applications. His scientific advances are evidenced by over 100 open literature publications, while his ability to innovate are demonstrated by his numerous patents and his ability to transition new technology to the field and commercial industry. Dr. La Scala has been the recipient of numerous awards for his work on polymers including being Inducted as a Fellow of the National Academy of Inventors in 2018, co-recipient of 2013 Presidential Green Chemistry and Engineering Challenge Award for Renewable Thermosets, 2011 Secretary of Defense Environmental Excellence in Weapon System Acquisition - Small Program award, RDECOM Environmental Acquisition and Logistics Sustainment Program (EALSP) Sustainable Painting Operations for the Total Army (SPOTA) project, and 2010 ESTCP Weapons Platform Project of the Year, Demonstration of Composites with Low Hazardous Air Pollutant Contents for Military Applications.
---
SESSION CHAIR
Session # 13 Sustainable Firefighting System Cleanout and Transition to PFAS-Free Foams
---