Register Today!
---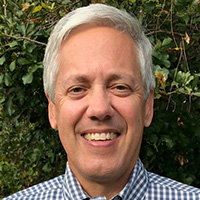 Mike Singletary
Senior Environmental Engineer
Naval Facilities Engineering Command (NAVFAC)
Mr. Singletary is a registered professional engineer with over 25 years of technical and project management experience in soil and groundwater remediation and environmental engineering, working for both the federal government and private sector. Mike works extensively in the planning, design, and implementation of remediation strategies for contaminated sites at Department of Defense (DOD) installations.
Mike supervises, designs, and implements site characterization and restoration programs addressing the requirements of a variety of regulatory programs, including the Comprehensive Environmental Response, Compensation, and Liability Act (CERCLA), Resource Conservation and Recovery Act (RCRA); and various state environmental cleanup programs.
Mr. Singletary collaborates with the scientific and engineering community (e.g. academia, federal agencies, private industry) to conduct applied research on innovative soil and groundwater remediation technologies and to develop and promote state-of-the-practice technologies for site restoration. Mike participates in research projects through DOD's Environmental Security Technology Certification Program (ESTCP) and Strategic Environmental Research and Development Program (SERDP).
Mr. Singletary earned a Bachelor's degree in Civil Engineering and a Master of Science degree in Environmental Engineering, both from Georgia Tech. His graduate research focused on the influences of aquifer heterogeneities and reductions in interfacial tension on the migration and entrapment of dense non-aqueous phase liquids (DNAPLs) in the saturated zone. His research also focused on the penetration of DNAPL into low permeability layers facilitated by reductions in interfacial tension.
Mike specializes in groundwater contaminant fate and transport processes, environmental risk management, subsurface remediation of chlorinated solvents and fuel hydrocarbons, bioremediation technologies, and molecular biological tools (MBTs).
---