Register Today!
---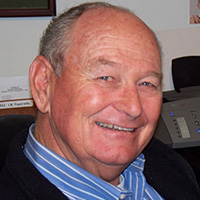 Sam Bandimere
Grouting Consultant
Bandimere Grouting Consulting Svcs.
Mr. Bandimere has been involved with the Geotechnical Ground Improvement Industry for over 45 years. His innovative applications have extended to projects on a world wide basis. Mr. Bandimere has been a member of the ASCE Geo-Institutes Grouting Committee since 1996 and has authored numerous papers on subjects related to grouting applications for the stabilization and re-leveling of existing structures. Mr. Bandimere has been an adjunct professor at the annual Fundamentals of Grouting Course for 38 years. Currently promoted by the University of Texas, in Austin, TX.
---
POSTER PRESENTATION
Methane Gas Mitigation - Means and Methods
For the control and/or blockage of methane flow paths through permeable geotechnical zones a cost-effective solution is the injection of a gel-forming chemical grout that is non-viscous and solids-free in nature. Sodium silicate and colloidal silica are two inorganic chemicals that meet these criteria and provide long-term methane blockage. Choosing between sodium silicate and colloidal silica requires compromising one desirable performance attribute for another. In the case of colloidal silica, the compromise also includes much higher cost. A novel manufacturing process allows for a less alkaline form of sodium silicate but not to the point where it would be considered a silica sol. This silica-based product is being used in the petroleum industry as treatment for sustained casing pressure. The product was recently used in combination with other remediation techniques to block methane at a reclaimed landfill site. This paper will review the chemistry, performance properties and recent case history.
---