Register Today!
---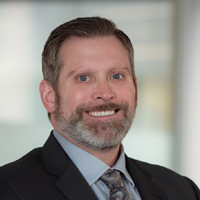 Ryan Wymore
Technical Strategy Leader for Remediation
CDM Smith
Ryan Wymore is an associate with CDM Smith in Denver, CO, where he serves as a technical strategy leader focused on soil and groundwater remediation technologies. He has spent the last twenty years specializing in innovative remediation technologies, particularly in situ bioremediation, MNA, in situ thermal remediation, in situ chemical reduction, in situ biogeochemical transformation, and in situ chemical oxidation. As a seventeen-year member of the ITRC, he has won four awards, had membership on ten technical teams, and has served as an instructor for seminars on DNAPL characterization/remediation technologies, which have been delivered to thousands of trainees worldwide.
---
POSTER PRESENTATION
Foam Fractionation and Electrochemical Oxidation in a Separation Concentration, and Destructive Treatment Train 
Per- and polyfluoroalkyl substances (PFAS) are widespread in the environment due to their extensive industrial, commercial, and household use in thousands of product formulations. Their unique strength and stability make them one of the most difficult classes of chemicals to remediate. These factors have created a great need for cost-effective, sustainable, and yet destructive treatment technologies for different water bodies to potentially oxidizing PFAS to CO2. This presentation will highlight recent findings in a pilot-scale treatment train consisting of 1) foam fractionation (SAFF™) to concentrate PFAS from dilute water streams by minimizing the volume of contaminated water and 2) electrochemical oxidation of PFAS concentrate, and 3) biological polish step for generated perchlorate for a complete and sustainable treatment of PFAS without byproducts focused on destruction. A full evaluation including fluorine mass balance, TOP/TOF, perchlorate generation and degradation, in addition to cost analysis and other water quality parameters will be presented..
---