Register Today!
---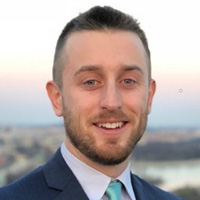 Patrick McKeown
Business Development Manager
ECT2
After graduating from the University of Maine with a degree in Civil and Environmental Engineering, Mr. McKeown spent 4 years in the environmental engineering field, focusing on wastewater and stormwater design. Mr. McKeown then joined ECT2 as an engineer on the design and fabrication team, building and operating systems treating PFAS contaminated water on project sites around the globe. After earning his Professional Engineering license in Maine, he transitioned to the business development team, where he currently manages the northeast and southeast United States markets.
---
POSTER PRESENTATION
Destructive Technologies Overview for Complete PFAS Treatment Solutions
To move beyond just sequestering per and polyfluoroalkyl substances (PFAS) many groups are looking to find methods to completely break down the carbon fluorine bond and achieve mineralization of PFAS compounds. ECT2 has developed technologies that concentrate PFAS to help make these technologies feasible. Due to this involvement in many different destructive technology pilots, this will be a unique overview on many of the destruction options that are promising. This presentation will give an overview of what some of these technologies are, how they work, and their technology maturity. The following technologies will be highlighted: Plasma, Thermal, Electrochemical Oxidation, Electron Beam, Advanced Oxidation, Supercritical Water Oxidation, Hydrothermal Alkaline Treatment, Sonolysis, UV-sulfite, Zero-Valent Iron, Alkali Metal Reduction, and Biodegradation. Data and time will be focused on two promising technologies; Plasma and Electrochemical Oxidation.
---