Register Today!
---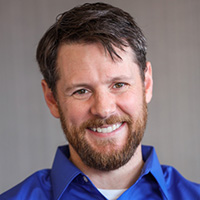 Kyle Spears
Hydrogeologist
Aestus, LLC
Kyle Spears is a hydrogeologist and the technical sales manager for Aestus, LLC. Kyle has previously worked for the Oklahoma Water Resources Board as a groundwater resources geologist. During his time there he co-authored technical publications on several of the state's aquifers. He has also conducted research using electrical hydrogeology to characterize alluvial aquifers, evaluating new ways to collect deeper data and evaluate channel morphology. He has conducted commercial work using electrical hydrogeology on sites around the country including many karst aquifers impacted with NAPLs.
---
FLASH POSTER PRESENTATION
Detecting Vertical Contaminant Flowpaths in Bedrock
Vertical drilling methods are typically used to characterize contaminated bedrock sites, but are largely inadequate to locate narrow vertical features and contaminant flow paths. Additionally, bedrock drilling economics severely limit data density which can lead to incomplete conceptual site models (CSMs) and expensive failed remediation attempts. At NAPL case study sites, standard drilling data was collected over an extended period of characterization and remediation without reaching a satisfactory endpoint. GeoTrax Survey™ 2D electrical image datasets were obtained by scanning from the earth's surface, and targeted confirmation drilling was subsequently performed. This approach located vertical flow features to evaluate potential pathways into and through the bedrock. Results show that while low porosity or fine-grained bedrock zones are often assumed to be impermeable, they provide good vertical pathways for downward migration of tens to hundreds of meters. This scan first with targeted drilling approach, facilitated accurate CSM development and successful remediation.
---