Register Today!
---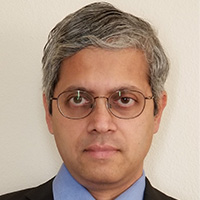 Krish Vijayaraghavan
Principal
Ramboll
Mr. Krish Vijayaraghavan, a Principal at Ramboll, has MS degrees in Chemical and Environmental Engineering and 23 years of experience in the environmental assessment of air quality and deposition and their linkage with watersheds and inputs to ecological and human health risk assessments. His areas of expertise include photochemical air modeling (ozone, secondary PM), and other criteria air pollutants, greenhouse gases/climate, air toxics, and the atmospheric deposition of sulfur, nitrogen, PFAS and mercury. Krish has published over 40 peer-reviewed journal articles and co-authored two books in the area of air quality and deposition.
---
POSTER PRESENTATION
Background PFAS deposition and Implications
A facility or other source in the vicinity of observed PFAS contamination in soil or water may not be the primary contributor to such contamination. Furthermore, the cause of contamination often may not be evident. How does one then assess the contribution of other potential sources? Since there are no natural sources of PFAS, the "background" PFAS would only be of anthropogenic origin. This presentation will illustrate the potential for wet and dry airborne deposition to contribute to background PFAS in urban and rural areas using atmospheric chemistry modeling results and reported monitoring data. The relative importance of precursors such as 8:2 FTOH and the time and distance needed for their atmospheric conversion to PFAS of concern such as PFOA will be explained. The contributions from distant and local emission sources to background deposition will be discussed.
---