Register Today!
---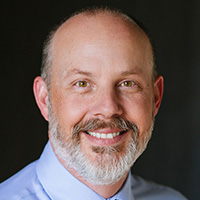 John Haney
Principal Environmental Engineer
Haley & Aldrich, Inc.
John Haney is an Environmental Engineer at Haley & Aldrich based in Spokane, Washington. After graduating from Montana Tech, John began his career in his home state of California and has practiced in Oregon and Washington. He has more than 20 years of experience assessing and remediating contaminated fuel sites, heavy industrial facilities, rail yards, port facilities, and abandoned mine lands. He also has broad experience with various contaminants including petroleum products, PAHs, VOCs, SVOCs, metals, and PCBs, as well as with site characterization, groundwater treatment, soil remediation, and pilot-testing innovative sampling and treatment technologies.
---
POSTER PRESENTATION
PCB Mineralization In Contaminated GW Using UV/AOP
In the early 1990s, researchers at the University of Wisconsin conducted bench-scale experiments evaluating the degradation of polychlorinated biphenyl compounds (PCBs) via reaction with hydroxyl radicals (OH) created from hydrogen peroxide (H2O2) excited by ultraviolet light (UV). This presentation will discuss the reaction mechanisms and present the results from the recent field testing of three UV/H2O2 treatment systems designed to treat PCB-impacted groundwater. One pilot-scale system was constructed using readily available, off-the-shelf parts; the other two were custom designed. The studies were performed under a variety of operating conditions including influent PCB concentrations, process flow rates, H2O2 dosing, and system configurations. Influent and effluent samples were analyzed for 209 PCB congeners in accordance with EPA Method 1668. Testing data from the field-scale studies indicate that, under certain operating conditions, treatment exceeded 90% PCB destruction removal efficiency (DRE) and at times achieved greater than 98% DRE.
---