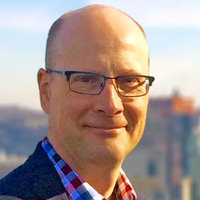 Jeffrey Hale
Emerging Contaminants Practice Leader
Woodard & Curran
Jeff is the Emerging Contaminants Practice Leader at Woodard & Curran. He provides consultation, strategy, and direction for challenging environmental and natural resources issues with emphasis on PFAS, emerging contaminants, complex sites, remediation, liability management, and environmental forensics. His approach is to provide multidisciplinary solutions to clients across industry sectors, integrating stakeholder interests, insight, advocacy, and technology. He is a thought leader for emerging environmental issues, having served on expert panels and chaired multiple working groups on environmental issues ranging from hydraulic fracturing to emerging contaminants. Jeff's core technical expertise includes contaminant hydrogeology, fate & transport, and fractured bedrock characterization.
---
FLASH POSTER PRESENTATION
PFOA Empirical Fate & Transport Assessment and Predictive Model
Factors affecting PFAS transport in groundwater are multiple, compound-specific, and site-specific, making deterministic transport modeling difficult. The NHDES PFAS Sampling Map was interrogated to identify PFAS concentration gradients from distinct sources to assess transport in an aggregated, empirical way. Concentration gradients of PFOA were identified at four sites (one POTW and three landfills) in similar physical settings with evident groundwater flow paths. Normalized PFOA concentration versus distance exhibits an exponential correlation (R2 = 0.99). An empirical model was developed to predict PFOA concentrations at distance from source, based on source concentration, indicating reasonable estimates are possible from aggregated empirical data, especially at facilities (e.g., landfills and POTWs) where precursor transformation to PFAAs (e.g., PFOA) has likely occurred prior to release. The model also demonstrates a six-fold reduction of the PFOA criterion (US EPA HAL to NH AGQS) results in >800 feet of additional distance in groundwater for attainment.
---