Register Today!
---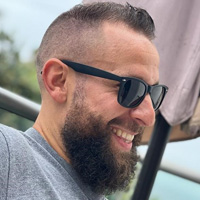 Jeff McDonough
Technical Director
ERM
After graduating from the Pennsylvania State University in 2005/2006 with a B.S./M.S. in environmental engineering, Jeff worked for Arcadis from 2007 to 2022 as an international technical resource for design, strategy, and implementation for in situ and ex situ remediation of a multitude of constituents of concern in a variety of environmental media. Recently, Jeff transitioned into a Technical Director role at ERM for in situ and ex situ remediation, with a specific focus on PFAS. Jeff collaborates freely with multiple universities, industry partners, and fellow consultants. He has published on innovative treatment technologies for multiple constituents, most recently PFAS and 1,4-dioxane. Jeff currently resides in CO and is a P.E. in New Jersey.
---
PLATFORM PRESENTATION
A Surprise Source of Residual PFAS to Natural Water
---
FLASH POSTER PRESENTATION
Management and Mitigation of PFAS Leaching from Hardscape
Historical discharge of PFAS-containing products (e.g., aqueous film-forming firefighting foams [AFFF]) to concrete and/or asphalt paved surfaces may result in potential secondary sources of PFAS trapped within the sparingly permeable porous structure. Our work builds upon a previous effort to characterize AFFF-impacted concrete, replicating mass concentration profiles and leaching experiments, and adds precipitation simulations. The purpose of our work is to approximate the PFAS mass-flux from hardscape to overland flow. PFAS at concentrations of 100s to 1,000s µg/kg were observed approximately 2 cm below the surface of test specimens collected from AFFF-impacted hardscape, and they were observed to leach up to 10s to 100s of µg/L in leaching experiments and 1s to 10s of µg/L in precipitation simulations. These data suggest potential maximum PFAS surficial leaching concentrations up to 4 orders of magnitude higher than some relevant surface water criteria. Lastly, our work begins to evaluate mitigation techniques.
---