Register Today!
---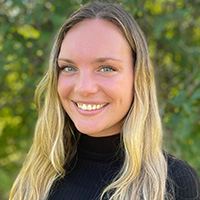 Hannah Anderson
Executive Administrator
TerraStryke Products LLC
Graduating from Boston College with a degree in Environmental Geoscience and Education, Hannah Anderson joined TerraStryke in 2021. In that time, she has already become an intrinsic part of TerraStryke Products, LLC. She is proud to be a part of a team of like-minded individuals who not only have a love for science but a respect for and desire to keep our Earth clean. Hannah is excited to continue to learn and grow within the company to further TerraStryke's green solutions to clean up contamination, all by harnessing the power of Mother Nature.
---
Bioremediation 4.0: What Procaryotic Microbes Can Really Accomplish and the Roll Quorum Sensing and Signaling (QSS) Plays
Environmental remediation and monitoring industries need to move forward with what wastewater, medical, dental, oil production industries have realized for decades: individual planktonic microbes and what they do aren't the concern; what planktonic microbes accomplish when in an environment that supports Quorum Sensing and Signaling (QSS), become sessile, and reside in a collectively constructed housing referred to as a 'biofilm' that counts. A sea of change is occurring in the remediation industry, a change mainly involving our catching up with existing awareness regarding QSS. We at TerraStryke strive to be pioneers in promoting Bioremediation 4.0 and the need to focus on the holistic ecosystem based on the concept of collective communication and information, electron, and resource sharing amongst the consortium of bacteria, not planktonic.
---