Register Today!
---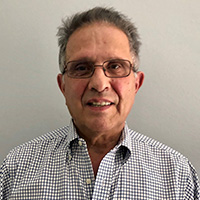 Frank Marine
Marketing and Communications Consultant (past President)
TM Deer Park Services LLLC (Texas Molecular)
Frank Marine, past President of TM Deer Park Services Limited Partnership (Texas Molecular). He has been with Texas Molecular for 15 years. Frank earned a B.S Degree in Chemical Engineering from Newark College of Engineering in Newark, NJ. Frank joined the Hazardous Waste business in 1987. His waste experience includes work with firms in the incineration, inorganic wastewater treatment, biological wastewater treatment, hazardous fuel blending, cement kiln, and underground injection segments. He currently represents Texas Molecular on the Deer Park Community Advisory Council and leads his company's outreach to local, state, and federal officials. He has delivered papers on PFAS, sustainability, community participation, and the use of deepwell injection to chemical plating, galvanizing, other State and National industry associations, Frank is married to his wife, Joan (47 years). He has one daughter and two wonderful grandsons. He enjoys any activities that includes his grandsons.
---
WORKSHOP PRESENTATION
Use of Class 1 Hazardous Waste Injection Wells for Aqueous PFAS Wastes
Class 1 Hazardous Waste injection wells have been used to manage constituents of concern for decades. It is overwhelmingly the largest method to manage hazardous waste in the United States. The concerns over PFAS discharges to water and air transport have increased interest in using underground injection. The EPA Interim Guidance on managing PFAS listed underground injection as the technology with the "least uncertainty" compared with other common and available technologies. The attendee will gain insight into the way in which underground injection is being used to manage PFAS from a number or sources. The presentation will also address the limitations of the technology and a brief comparison of Class 1 Hazardous and Class 1 Non-Hazardous injection wells.  
---