Register Today!
---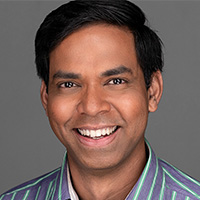 Dayal Saran
VP of Research
Allonnia
Over the past 20+ years Dr Saran has been a noteworthy leader in Synthetic Biology Space. He has leveraged metabolic engineering and biotechnology to commercialize the novel solutions in the area of industrial proteins and enzymes, flavors / fragrances and other food ingredients, insect control agents, live biotherapeutics, and biofuels. He holds a Master's degree in Chemistry and a Ph.D. in biochemistry. Dayal has authored and co-authored publications in peer reviewed journals and holds several patents related to synthetic biology.
---
FLASH POSTER PRESENTATION
Developing Novel Onsite Handheld Biosensors for PFAS Constituents
Currently samples from sites contaminated with emerging contaminants like Per- and polyfluoroalkyl substances (PFAS), need to be sent for off-site analysis to analytical labs in to order detect the level of contamination. There exists a need for alternative portable tools that can allow for real-time, inexpensive and in situ monitoring of contaminants in the field. In this poster we will describe Allonnia's approach to development of versatile biosensor tool that fulfils an unmet market need. In short, at Allonnia we have selected and identified proteins that have high affinity (in single digit PPT) and selectivity for specific PFAS compounds. Currently we are in the process of immobilizing these proteins on electroactive surface that generates an electrochemical signal as these proteins recognize PFAS compounds. Biosensors have the potential to be developed as easy to operate, robust, rapid (short response time), and portable detection tools with high selectivity and specificity.
---