Register Today!
---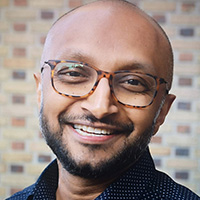 Bharat Chandramouli
Director of Products, Environmental Labs
SGS
Bharat Chandramouli is a senior scientist with 20+ years of experience in the occurrence, fate and transport of persistent organic pollutants and contaminants of emerging concern. He is a published author on several peer-review articles and book chapters on atmospheric chemistry, per- and polyfluorinated substances (PFAS) measurement, emerging contaminants occurrence and more. At SGS, Bharat manages the development of new products and services in North America and is a subject matter expert on PFAS and other emerging contaminants. Bharat completed his Ph. D in environmental science and atmospheric chemistry from the University of North Carolina, Chapel Hill. 
---
FLASH POSTER PRESENTATION
PFAS in Landfill Leachates: Sources, Occurrence, Patterns and Issues
Landfills store substantial amounts of waste containing per- and polyfluoroalkyl substances (PFAS) from multiple sources including domestic, industrial, wastewater treatment, hazardous waste treatment and more. PFAS present a unique waste treatment challenge with the conversion of PFAS into persistent perfluoroalkyl acids through wastewater treatment and the return of PFAS as biosolids back into the landfill. Landfill gas containing volatile PFAS is another emerging issue. In this presentation, we discuss the sources, occurrence, PFAS patterns and treatment of PFAS in landfill leachates. We use data from recent projects we have conducted on PFAS in landfill leachate to understand occurrence and PFAS fingerprints. We will also discuss current and pending regulation of PFAS in leachates.
---