Register Today!
---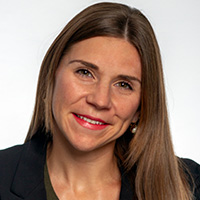 Tracy Dannell
Senior Project Scientist/ Biologist
Geosyntec Consultants
Tracy Dannell is a senior project scientist/ biologist with 16 years environmental career experience that circles the globe working in both the public and private sector. She is a certified Environmental Professional with ECO Canada for Site Assessment and Reclamation, Fisheries and Wildlife, Natural Resource Management, and Environmental Management. Tracy has worked on numerous contaminated sites projects and programs at all stages of assessment and remediation for public and private client for a variety of comminates of concern including PFAS. She has participated as a consultant proposing, managing, and implementing the projects and also as a regulator and client at the program, funding, and project level. She has been part of the Real Property Institute of Canada (RPICs) Federal Contaminated Sites workshops main and technical committees for more than 13 years and is currently the 2022 technical co-chair. Additionally, she was a committee member of the Hampton Roads SAME post and has also participated in technical components of the ALGA while in Australia. She is part of Geosyntec Consultants Canadian Operations and has worked for the company from the U.S., Australia and now Canada. Tracy serves as the Canadian Federal, Impact Assessment and Natural Sciences Lead. She leverages her contacts and network around the world to drive and bring awareness, coordination, and results in terms of supporting R&D efforts and new technology advances in contaminated sites to program and projects solutions.
---
PLATFORM PRESENTATION
Harnessing the Power of Bubbles to Remove PFAS from Plumes and Source Zones
---
Back to Platform Presenters Page