Register Today!
---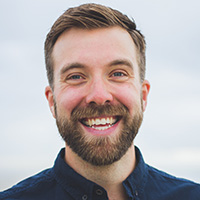 Dr. Thomas Wanzek
PhD Candidate
Oregon State University
Tom Wanzek is a doctoral candidate in the department of Crop and Soil Science at Oregon State University in Corvallis, Oregon. He is advised by Dr. Jennifer Field (Dept. of Environmental and Molecular Toxicology) and Dr. Markus Kleber (Dept. of Crop and Soil Science). His doctoral research focuses on system-scale soil properties and PFAS molecular parameters related to PFAS sorption in AFFF impacted soils. Prior to his doctoral research, Tom had the opportunity to be involved in environmental remediation and nutrient cycling projects as a researcher at the United States Department of Agriculture – Agricultural Research Service. He received his master's degree in soil science from Oregon State University in 2017 where his researched focused on parameterizing microbially mediated biogeochemical cycling of soil carbon at the field-scale in an effort to better inform carbon cycling models.
---
PLATFORM PRESENTATION
Mechanistic Understanding of PFAS in Source Zones

Retention of per- and polyfluoroalkyl substances (PFAS) is reported for soils and sediments where aqueous film forming foams (AFFFs) were routinely applied. The objectives of this project are to 1) identify the key PFAS and soil properties that control PFAS interaction with saturated soils when AFFF is applied at near application strength concentrations, 2) characterize the type of thermodynamically-stable phases formed when AFFF is mixed with jet fuel and their impact on PFAS transport, and 3) assess PFAS mobility under unsaturated zone to identify the key hydraulic parameters and PFAS properties controlling PFAS mobility and retention. PFAS retention was related to PFAS structure and soil properties through a machine learning-based poly-parameter quantitative structure-parameter linear regression model. PFAS retention by clean sand increased over the first three successive AFFF additions, reaching a saturation limit after the fourth indicating that PFAS sorption is enhanced by previous AFFF exposure. Viscous Winsor Type II microemulsions form with pore-scale mixing of AFFF with Jet Fuel A, during infiltration. Sorption of PFAS at environmentally relevant concentrations to the air-water interface is best modeled by a Freundlich isotherm. Correlations between air-water the partitioning coefficient (Kia) and chromatographic retention time indicate Kia values can be predicted for a wide range of PFAS.
---