Register Today!
---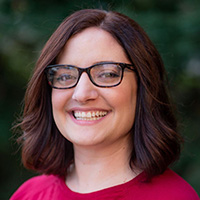 Taryn McKnight
Scientific Officer and PFAS Practice Leader
Eurofins Environment Testing America
Taryn McKnight, PFAS Practice Leader for Eurofins Environment Testing America based in Sacramento, California, has nearly 20 years of experience in the environmental testing industry specializing in PFAS and Vapor Intrusion assessments. She is responsible for providing technical guidance to clients, agencies and industry personnel across the country. With 20 years invested in PFAS method development and analysis, Eurofins has demonstrated leadership in this field of testing, supporting an analytical approach that provides consistent and defensible data in a world that lacks standardization for PFAS methodologies.
---
PLATFORM PRESENTATION
In-depth Characterization of PFAS in Wastewater, a More Comprehensive Analysis
Current analytical methodologies for measuring PFAS in the environment have led to a series of compromises in terms of sensitivity, selectivity, and capturing the whole PFAS picture. Conventional methods can measure a discrete list of compounds on the order of 70+ PFAS analytes. There are methods which aim to capture additional non-discrete PFAS mass such as the TOP Assay and Adsorbable Organofluorine (AOF), each with their own set of compromises. These methodologies have previously been compared and evaluated for strengths and weaknesses. This research, in wastewater, aims to take the comparison and subsequent evaluation of PFAS analytical tools one step further with the inclusion of Non-Target Analysis (NTA). Utilizing Liquid Chromatography, Quadrupole Time-of-Flight mass spectrometer (LC-QTOF-MS), we can expand upon the results from the previously studied methods to identify what the PFAS "dark matter" is comprised of and what we might be missing with all three of these commercial approaches.
---

Back to Platform Presenters Page