Register Today!
---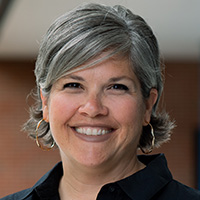 Kelly G. Pennell
Professor
University of Kentucky
Kelly G. Pennell, PhD PE is a Professor of Civil Engineering at the University of Kentucky and the Director of the National Institute of Environmental Health Sciences (NIEHS) University of Kentucky Superfund Research Center (UKSRC). UKSRC is a multi-million dollar research enterprise with over 20 faculty/staff plus 20 trainees. As Director of UKSRC, she interconnects research being conducted in six colleges (Engineering, Medicine, Public Health, Nursing, Agriculture, Food and the Environment, and Pharmacy) around a common theme of reducing health risks posed by halogenated organic contaminants in vulnerable communities.
Dr. Pennell gained experience as a practicing engineer at an international environmental consulting firm, ARCADIS, Inc. (1997-2002). She conducted site characterization activities, designed remediation systems to clean-up extensive contamination at large manufacturing sites, including some the most contaminated sites in the country (e.g. Superfund sites), and responded to oil spills and other environmental disasters. These efforts were aimed to prevent and reduce contaminant exposure risks in communities. While conducting these activities, she also conducted research on chemical oxidation processes during masters (MS) in environmental engineering at Rose-Hulman Institute of Technology and became a licensed Professional Engineer (PE) in 2001. She earned her PhD at Purdue University in civil (environmental) engineering in 2005 with a focus on sequential water disinfection processes for long-term space missions and gained significant training within a large multidisciplinary research center supported by the National Aeronautics and Space Administration (NASA). As a post-doctoral scholar and research faculty (2005-2010), Dr. Pennell gained extensive experience working within Brown University's NIEHS SRP. In this role she actively engaged federal, state and local decision makers while serving as a policy liaison bridging knowledge across disparate stakeholders, including faculty from the School of Engineering, Medical School, and School of Public Health, as well as community groups, and officials at federal and state governmental agencies.
She has published nearly 50 peer-reviewed journal articles, advised dozens of graduate students, and influenced federal and state regulatory guidance. She is a well-known expert in stakeholder engagement, modeling fate and transport processes, and vapor intrusion science.
---
PLATFORM PRESENTER

Conceptualizing Vapor Transport, Entry, and Mitigation: New Understandings for Old Pathway
---

Back to Platform Presenters Page