Register Today!
---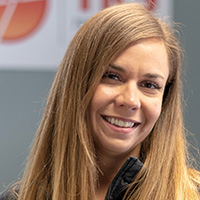 Emily Crownover
Lead Engineer
TRS Group
Dr. Emily Crownover has 15 years of research experience, with expertise in thermal treatment design and implementation. Dr. Crownover has designed, implemented, and optimized in situ thermal remediation systems at a range of sites across the U.S., from active facilities to Superfund sites. She has served in multiple project roles including lead engineer, research and development engineer, project engineer, and project manager. In her current role as lead engineer, Dr. Crownover manages engineering staff and leads research and development at TRS, facilitating in situ thermal advancements, including PFAS remediation, 1,4-dioxane remediation, and low temperature heating to enhance degradation pathways.
---
PLATFORM PRESENTATION
Thermal Treatment of PFAS Impacted Soil – Field Demonstration and Scale-Up Considerations
Emily Crownover (ecrownover@thermalrs.com), Patrick Joyce, Lynette Stauch and Gorm Heron, TRS Group Inc., Longview, Washington
Phillip Stallings, Paragon
Kurt Pennell, Matthew Woodcock, Katherine Manz, Brown University
Soils contaminated by per- and polyfluoroalkyl substances (PFAS) present a unique challenge because the options for treatment are extremely limited. Excavation and off-site disposal/treatment is problematic because the liability for the PFAS contaminants present in soil, and off-site treatment options are uncertain. Even thermal destruction in soil burners may be problematic due to the potential formation of byproducts.
Laboratory-scale thermal treatment studies using PFAS-impacted solids at temperatures between 350 and 400oC have shown great promise; all 28 targeted PFAS compounds were effectively removed to near non-detect concentrations. This finding is consistent between studies performed by the TRS Group, Jacobs Engineering, and Kruger. To date, no field-scale demonstrations of thermal treatment of PFAS-impacted soils have been completed. 
Eielson AFB in Alaska has approximately 150,000 cubic yards of PFAS-laden soils stored in 52 above-grade piles. With funding from ESTCP, a small pile was treated on site in 2021. Activities included:
Laboratory soil heating studies – including experiments designed to look for non-targeted compounds and potential by-products formed during heating
Field demonstration of thermal treatment of one stockpile using 48 heaters and nine soil vapor extraction wells; a three-month-long operation which brought the soil to temperatures above 350oC
Extraction of vapors and on-site treatment using cooling, condensation, and granular activated carbon
Soil sampling and determination of PFAS concentrations before and after treatment
To our knowledge, this is the first field-scale PFAS soil thermal treatment demonstration that focuses on providing a detailed understanding of the process. The detailed sampling and analysis demonstrated PFAS reductions and served to identify the fate of precursors and by-products.  As part of the off-gas sampling effort, the new U.S. EPA OTM-45 vapor sampling method was deployed.
The presentation will focus on lessons learned, PFAS behavior and fate, and considerations for scaling up the process to treat large volumes of PFAS-laden soil piles.
---