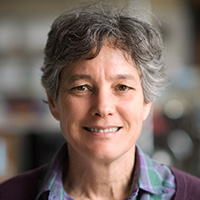 Dr. Elizabeth Edwards
Professor
Department of Chemical Engineering and Applied Chemistry-University of Toronto
Dr. Elizabeth Edwards holds Bachelor's and Master's degrees in Chemical Engineering from McGill University, Montreal, and a PhD degree (1993) in Civil and Environmental Engineering from Stanford University. She is internationally known for her work on anaerobic bioremediation, the application of molecular biology and metagenomics to uncover novel microbial processes, and the transition of laboratory research into commercial practice to develop bioremediation and bioaugmentation strategies for groundwater pollutants. Dr. Edwards and her team were recognized with the 2009 NSERC Synergy Award for her highly successful partnership with Geosyntec, with whom she developed a microbial consortium called KB-1®, marketed by SiREM labs in Guelph, ON, and used around the world. She is also the founding director of BioZone, a Centre for Applied Bioscience and Bioengineering Research at the University of Toronto and a Tier 1 Canada Research Chair in Anaerobic Biotechnology. In 2016, she was awarded the Canada Council of the Arts Killam Prize in recognition of her outstanding career achievements and was appointed an Officer in the Order of Canada (Canada's highest civilian honour) by the Canadian Governor General in 2020.
---
PLATFORM PRESENTATION

Adventures in anaerobic benzene biodegradation
Courtney R. A. Toth, Sandra Dworatzek, Nancy Bawa, Jennifer Webb, Shen Guo, Johnny Xiao, Camilla Nesbo, Xu Chen, Amanda Liang, and Elizabeth A. Edwards
Abstract:
These are very exciting times in fundamental and applied environmental microbiology owing to significant advances in analytical tools and techniques to interrogate complex biological systems. These tools are enabling novel approaches and improved modeling to uncover fundamental metabolism, genetics, and interspecies metabolite transfer in complex microbial ecosystems. One example of a complex microbial system we have studied for a long time is a consortium that brings about the anaerobic transformation of benzene to methane and CO2. In this talk, I will discuss how modern genome-enabled tools and a lot of perseverance have been essential to deciphering novel microbes and their interactions in order to better assess and accelerate anaerobic benzene biodegradation in situ.
---
Back to Platform Presenters Page