Register Today!
---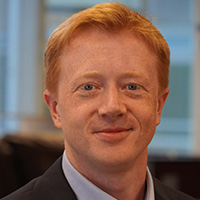 Chris Shores
Principal Engineer
Geosyntec Consultants
Mr. Shores is a remediation design engineer and project manager with degrees in civil and environmental engineering and more than 13 years of experience in the environmental consulting field. His work includes a broad array of remediation technologies, from feasibility through design, construction management, and operations. His combination of technical acumen and deep understanding of project delivery, including contractual strategies to ensure efficient delivery for clients, enables him to lead diverse teams of engineering disciplines and project control specialists to deliver quality work on time and within budget. He has experience with a wide array of in-situ and ex-situ remedial technologies, including Thermal Remediation, Air Sparging/Soil Vapor Extraction, Pump & Treat, Enhanced In-Situ Bioremediation, Horizontal Directional Drilling, Soil Mixing, Vapor Intrusion Mitigation, conventional civil engineering solutions (e.g., Caps, Slurry Walls, Soil Excavation, Stormwater Management), and Monitored Natural Attenuation. His diverse experience allows him to frequently support environmental liability valuation (ELV) efforts for attorneys and industrial clients.
---
PLATFORM PRESENTATION
PFAS Remedy Design and Implementation in Challenging Hydrogeological Settings
Geosyntec's site characterization and remedy design teams were faced with a hydrogeologically challenging PFAS contaminated site, with perched and surficial aquifers under the facility that seep to the surface as they migrate down toward a river, coalescing into four distinct surface-water streams with terminal discharges at a significant distance from facility infrastructure. Geosyntec successfully developed a robust conceptual site model by pursuing critical hydrogeological insights gathered from studying the site setting and iterative field investigations. These insights revealed a previously unidentified major PFAS transport pathway at the Site: a set of upwelling groundwater channels. To remediate these sources to the river in a time-critical basis, Geosyntec engineers designed and implemented an innovative, gravity-powered water treatment remedy (flow-through cells) which are consistently removing approximately 99% of target PFAS from influent water. Downstream PFAS concentrations within the receiving river body have indicated a significant decline after operation of all four flow-through cells. Overall, the project has demonstrated that passive in situ remedies are viable not just for PFAS, but for other mobile, persistent compounds as well, such as 1,4-dioxane.
---