Register Today!
---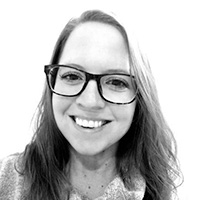 Andrea Hanson
Research Scientist II
Colorado State University
Dr. Andrea Hanson is a Research Scientist II at Colorado State University in the Department of Civil & Environmental Engineering. Andrea earned her Ph.D. in biochemistry and microbiology (2015) and B.S. in biochemistry and molecular biology (2009). Andrea's research integrates microbial physiology & ecology, biogeochemistry, analytical chemistry, and engineering principles to understand the fate of contaminants in natural and engineered systems. She is currently working in collaboration with industry sponsors and academic colleagues to develop solutions for addressing substituted nitroaromatic compounds, per- and polyfluoroalkyl substances, 1,4-dioxane, perchlorate, and oil & gas produced water.
---
PLATFORM PRESENTATION
Bioremediation of Novel Substituted Nitroaromatic Compounds: A Pilot-Scale Biosparging Field Demonstration
A shallow aquifer at a chemical manufacturing facility is predominantly contaminated with substituted nitroaromatic compounds (NACs). Given high concentrations of NACs and sluggish depletion rates historically observed, we hypothesized that the availability of molecular oxygen limits their biodegradation. We established oxygen-enhanced NAC biodegradation in laboratory-scale microcosms where we observed the removal of 1-nitronaphthalene, a major contaminant at the site whose biodegradation has not yet been sufficiently established. Subsequently, a pilot-scale field demonstration of biosparging at the site was commenced. With pre- and post-sparging soil and groundwater analyses coupled to real-time sensor measurements, lines of evidence were gained from chemical, biological, and compound-specific isotope analyses to distinguish NAC biodegradation zones. Notably, reductions in aqueous concentrations were observed for several NACs including 3,4-dichloronitrobenzene, 2,6-dinitrotoluene, 2,4-dinitrotoluene, 1,2-dinitrobenzene, 1,3-dinitrobenzene, and 1-nitronaphthalene accompanied by substantial increases in nitrite, a byproduct of NAC degradation.  This presentation showcases the lessons learned from a successful pilot-scale bioremediation trial. 
---