Register Today!
---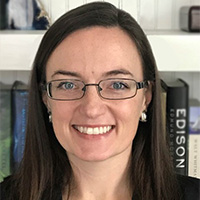 Alexis Carpenter
Chief Scientist
AxNano // Triad Growth Partners
Alexis Wells Carpenter, PhD is Chief Scientist at AxNano, a cleantech venture studio that develops and scales environmental products and services. Dr. Carpenter has served as Principal Investigator on Small Business Innovative Research programs from National Science Foundation, NIEHS Superfund Research Program, National Institutes of Standards and Technology, and the Department of Air Force's AFWERX. AxNano is a subsidiary of Technology Development Group, LLC, which are the distributors of RemRx® amendments.
Dr. Carpenter's expertise is in assembling teams and solutions needed to commercialize early stage technologies. Dr. Carpenter completed her PostDoc work with Prof. Mark Wiesner in the Superfund Research Center and the Center for Environmental Implications of Nanotechnology at Duke University developing zero-valent iron technologies for in situ sediment remediation and enhanced wastewater treatment. Dr. Carpenter has a PhD in Inorganic Chemistry from UNC-Chapel Hill where her dissertation focused on manipulating particle formulations for controlled drug delivery and antimicrobial applications, under the advisement of Professor Mark Schoenfisch.
---
FLASH POSTER PRESENTATION
RemRx™ CRI: Controlled Release Injectable for Treatment of Low Permeability Zones
Alexis Wells Carpenter, PhD; Julia Darcy, PhD; Danilo Meyer-Arrivillaga; Jeffery Albano PG; Eduardo Mendez PhD; Mark Widdowson, PhD
The presentation will describe bench scale and pilot field deployment of RemRx® CRI permanganate, an injectable controlled release oxidant designed to mitigate contaminant rebounding. The controlled release is achieved by embedding oxidants into a polymer matrix. Oxidant release occurs as groundwater diffuses through the matrix. The presentation will describe laboratory batch and column studies that demonstrate ~3x longer release of oxidant from the controlled release matrix compared to oxidant slurries. Preliminary results from two pilot field deployment of RemRx® CRI permanganate will also be presented, including oxidant and contaminants concentrations in groundwater overtime; soil cores and estimated radius of influence from injection point; and modeling of long-term performance. This is the first ever injectable form of a controlled release oxidant.
---