Register Today!
---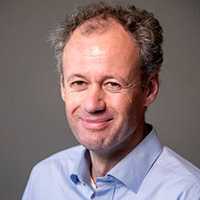 Dr. Rainer Lohmann,
Director,
University of Rhode Island Superfund Research Center
Rainer Lohmann is the Director of the University of Rhode Island Superfund Research Center which focuses on Sources, Transport, Exposure and Effects of PFAS, and Professor of Oceanography at the University of Rhode Island's Graduate School of Oceanography. His group conducts research into the sources, transport, and bioaccumulation of anthropogenic pollutants, often relying on the use of passive samplers. Other than PFASs, his research covers dioxins, PCBs, legacy pesticides and emerging contaminants. Lohmann initiated a global effort to monitor organic contaminants in the waters of the world, termed AQUA-GAPS, which started field trials in 2016. He was trained in Chemical Engineering at the Ecole Européenne des Hautes Etudes des Industries Chimiques de Strasbourg (France) and got his Ph.D. in Environmental Science from Lancaster University (UK). Lohmann serves as Editor for Environmental Toxicology and Chemistry, and is on the Editorial Boards of Environmental Science & Technology and Environmental Science & Technology Letters, among others. 
---
Session Keynote
Active vs passive: PFAS Sampling Challenges and Opportunities
The session will discuss the latest insights linked to measuring various PFAS, either relying on active or passive sampling. While grab sampling has been the standard approach to site characterization, recent developments in passive sampling implies that some of these samplers are now ready to be used in the field. No matter the sampling approach, a more complete characterization of PFAS in the environment has emerged with suspect screening, and non-target approaches, aided by instrument and workflow improvements.
---