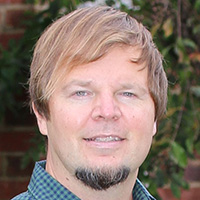 Dr. Kurt Gust,
Research Biologist,
U.S. Army, Engineer Research and Development Center
Kurt A. Gust, Ph.D., is a Research Biologist and Team Lead for Environmental Genomics and Systems Biology at the US Army, Engineer Research and Development Center (ERDC) in Vicksburg, MS. Dr. Gust began his career at the US Army ERDC after graduating with a Ph.D. in Biological Sciences from Louisiana State University in 2005. His research efforts span multiple disciplines within the biological and environmental sciences where genomics and systems biology have served as platforms for advanced R&D in ecotoxicology, materiel life cycle analysis, synthetic biology, and bio-inspired systems.
---
KEYNOTE PRESENTATION
Zebrafish Response to Low-Level PFOS Concentrations in a Multi-Generational Exposure
Reproducibility of experimental results is fundamental to establishing confidence in observed outcomes. The purpose of the present study was to evaluate the reproducibility of findings from a previous investigation of multigenerational PFOS exposure in zebrafish which reported effects at exposure levels nearly two orders of magnitude lower for the species than observed in other published studies. Due to the regulatory implications of this previous multigenerational investigation, the US Army, Engineer Research and Development Center (ERDC) in collaboration with the USEPA Office of Research and Development (ORD) reproduced a multi-generational PFOS exposure study in zebrafish with inclusion of key study improvements including a more robust experimental design, expanded analytical verification of PFOS exposure concentrations, and a more rigorous statistical analysis. The presentation will provide the results of the investigation, comparisons with the previous multigenerational exposure, implications for regulatory consideration, and a brief description of follow-on work.
---