Register Today!
---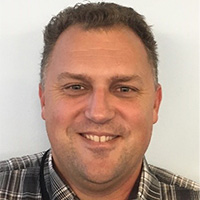 Dr. Jason Speicher,
Biologist
NAVFAC Atlantic
Jason worked as a risk assessor (Eco & Human Health) and sediment lead at former EFANE of Naval Facilities Engineering Systems Command (NAVFAC) from 1998 to 2006. From 2006 to 2017, Jason worked for FirstEnergy Corp, an electric utility holding company for 10 electric utilities in PA, NJ, MD, WV, and OH, as well as generation assets formerly owned by the company. For FirstEnergy, he was a remedial project manager for 21 sites in all 5 states, managed environmental due diligence assessment (i.e., Phase I/Phase II) for real estate transactions, lead on aboveground/underground storage tank program in PA, NJ, and MD, and was Environmental lead on the demolition and remediation of several former power plant sites. Currently, Jason serves as a subject matter expert (SME) for NAVFAC Atlantic in the fields of risk assessment, sediment assessment and cleanup, and PFAS investigation and remediation. Additionally, he serves as a Navy liaison and technical support representative to the DoD's SERDP and ESTCP research programs in the areas of contaminated sediment remediation, as well as PFAS investigation and remediation.
---
Session Keynote
Supporting Research for DoD-Funded Innovative Technologies for PFAS Treatment and/or Destruction
The science and technologies surrounding the environmental characterization and remediation of per and polyfluoroalkyl substances (PFAS) is constantly developing.  To assist in the development of these technologies, opportunities to field test, demonstrate, and optimize them must be provided.  This presentation will discuss how the Department of the Navy has provided opportunities to PFAS research projects through the DoD's SERDP/ESTCP and the Navy's NESDI program for such field demonstrations, and the lessons learned that can be incorporated to further enhance future collaborations.

---