Register Today!
---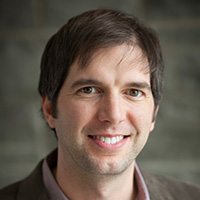 Dr. Damian Helbling
Associate Professor
Cornell University
Damian Helbling is an associate professor of civil and environmental engineering at Cornell University in Ithaca, NY. Damian's current research focuses on the occurrence and fate of organic chemicals in natural and engineered water systems. In particular, the goals of Damian's research are to improve our understanding of the breadth of organic chemical contaminants that may occur in aquatic environments, evaluate the determinants of environmental persistence of organic chemical contaminants, and develop new remediation technologies for the removal of organic chemical contaminants from water. Damian is the Principal Investigator of a SERDP-funded project that aims to design, characterize, and evaluate the implementation of novel polymer adsorbents for the remediation of PFAS-contaminated groundwater. He has authored more than 50 peer-reviewed research papers, including several describing the synthesis and evaluation of cyclodextrin-based polymeric materials as adsorbents for organic chemical contaminants. He earned a bachelor's degree in civil engineering from the Pennsylvania State University in University Park, PA and master's and doctoral degrees in civil and environmental engineering from Carnegie Mellon University in Pittsburgh, PA.
---
Session Keynote
Identifying Diagnostic Chemical Fingerprints from Different PFAS Source Types by Integrating Broad Sample Characterization and Machine Learning Techniques
Environmental forensics is the acquisition and analysis of chemical data to answer questions on the nature, extent, and timing of contamination events. There is an increasing interest in environmental forensics applied to PFAS, in particular, as a means to untangle PFAS contamination that may arise from multiple sources such as the use of aqueous film-forming foams, fluorochemical manufacturing, landfill leachate, and other commercial, industrial, or municipal activities. In this presentation, new approaches will be described that integrate broad sample characterization and machine learning techniques to discover chemical fingerprints that are diagnostic of specific PFAS source types. Challenges arising from contaminant dilution, differential transport of PFAS species, transformation of precursors, and mixing of multiple sources will be discussed.
---