Register Today!
---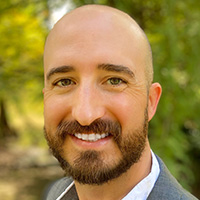 Dr. Andrew McQueen,
Research Biologist
U.S. Army Corps of Engineers (USACE)
Dr. Andrew McQueen is a research biologist at the U.S. Army Corps of Engineers (USACE) Engineer Research and Development Center (ERDC), Environmental Laboratory in Vicksburg, Mississippi. He currently serves on the Risk Integration Team where he focuses on risk assessment and management of legacy and emerging contaminants in the environment. His research is also informing how sustainable environmental, social, and economic benefits can be incorporated into large-scale navigation and port infrastructure projects.
He received his Ph.D. in Wildlife and Fisheries Biology (Ecotoxicology) from Clemson University and his research focuses on fate and effects of contaminants in aquatic ecosystems, evaluating sediments as sources and sinks for contaminants in aquatic ecosystems, bioavailability of xenobiotic chemicals to aquatic organisms, and developing scalable treatment solutions for complex mixtures.
Dr. McQueen has published over 40 peer-reviewed articles in the areas of aquatic and sediment toxicology, passive water treatment technologies, fate and mitigation of persistent organic pollutants, and environmental risk assessment and management. He is an active member of the Society of Environmental Toxicology and Chemistry (SETAC), Western Dredging Association (WEDA), and serves on multiple working groups for the World Association for Waterborne Transport Infrastructure (PIANC).
---
SESSION KEYNOTE
Critical Review of Frameworks for Screening and Risk Management of Chemicals and Advanced Materials
Authors:
Andrew McQueen1, David Moore1, Betsy Ruffle2, Sagar Thakali2, Deborah Edwards4
AFFILIATION:
1United States Army Corps of Engineers, Engineer Research and Development Center, Vicksburg, MS, USA
2AECOM, Chelmsford, MA, USA
3AECOM, Conshohocken, PA, USA
4ExxonMobil Environmental and Property Solutions Company (retired), Houston, TX, USA
Abstract:
Regulatory programs and frameworks developed for assessment of the safety and management of the risks associated with chemicals and/or materials have evolved over the last half-century. However, identification of new and emerging environmental contaminants continues, which suggests a need for review of current approaches and strategies. Twelve existing frameworks relating to assessment and management of chemical/material risk were reviewed to identify potential process improvements for facilitating early identification of potentially problematic substances (or properties) and better inform chemical/material risk management strategies (e.g. prohibition, restricted use and/or selection of safer alternatives). The frameworks selected for review represent a broad spectrum of regional, national, and international authorities and purposes, including pre-production evaluation of new substances, classification and hazard communication, identification of persistent pollutants, and identification of safer alternatives. Overall, this review compared commonalities and uniqueness among frameworks, discussed process improvement recommendations, and identified a number of areas of future improvements to enhance more timely identification of problematic substances.
---