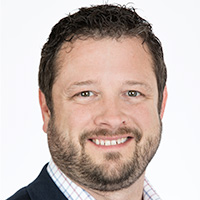 Ryan Moore
Senior Technical Manager
REGENESIS
Ryan Moore has more than 19 years of experience as an environmental project manager and laboratory account executive relating to multimedia contamination sites throughout the U.S. His experience focused on in situ groundwater and soil treatment, site investigations, corrective action evaluations, operation & maintenance of remediation systems, large soil removal remedial projects, vapor intrusion assessments, and environmental laboratory operations such as QA/QC evaluations, data interpretations, and business development. He has presented at multiple conferences on in-situ remediation including events hosted by Battelle, AIPG, and other environmental associations. Ryan holds a B.S. of Environmental Studies from Manchester College, North Manchester, IN.
---
Colloidal Activated Carbon used to Enhance Natural Attenuation of PFAS at Airports World-wide: A Multiple Site Review
The presentation is a case study review of more than 7 airport sites from the US and the UK that used enhanced natural attenuation  strategy to mitigate risk to sensitive receptors associated with PFAS impacts in soil and groundwater through treatments with CAC.