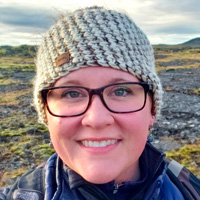 Kristen Hasbrouck
Project Geologist
Tanaq Environmental, LLC
Kristen Hasbrouck is a project geologist for Tanaq Environmental and works from Traverse City, MI. She provides technical expertise in areas including high-resolution adaptive site characterization, 3D conceptual site modeling, and PFAS site characterization with mass flux/mass discharge analysis. Kristen received her B.S in Geology from Hope College and is pursuing a Doctorate in Hydrogeology at Western Michigan University, building on current and past PFAS projects with the U.S Defense Department's Strategic Environmental Research and Development Program (SERDP) and the Environmental Security Technology Certification Program (ESTCP).
---
Mitigation System Adaptations for Effective PFAS Removal and Water Resource Sustainability
PFAS impacts were identified at a client confidential site in surface water runoff that was collected and used for irrigation. Migration of potential PFAS impacts became a concern as water from irrigation activities infiltrated from the surface to shallow aquifers, causing potential risk to downgradient drinking water sources. A treatment system installed at the site by Tanaq Environmental, LLC utilized an adaptive approach to adjust to site conditions and treat PFAS-impacted water. Within four years the adaptive approach to treatment lead to a problem of migration mitigation and potential risk to downgradient drinking water sources becoming a success story of responsible use of an unexpected water source. The approach efficiently met client needs while benefitting the site, surrounding communities, and the environment.