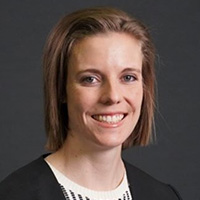 Helen Girod
Senior Staff Engineer
Geosyntec Consultants, Inc.
Helen Girod is Senior Staff Engineer in Geosyntec Consultants' Columbia, Maryland office. Her project experience has focused on assisting with a range of groundwater and soil remediation efforts. This has included the analysis of radiological data for final status survey reporting, analysis and presentation of data for project groundwater treatability studies, and routinely performing and reporting on groundwater and surface water compliance monitoring for a range of landfill site. Helen has a B.S. in Environmental Engineering from Johns Hopkins University and M.S. in Environmental Engineering from Stanford University, with concentrations in environmental health and aquatic chemistry.
---
Sulfidated Zerovalent Iron: Effects on Subsurface Microbial Communities and Biological Dechlorination
Sulfidated zerovalent iron (S-ZVI) is an innovative in situ chemical reduction amendment. The advantages of S-ZVI have been extensively demonstrated in recent laboratory studies; however, S-ZVI has not be rigorously evaluated in the field. This Environmental Security Technology Certification Program project aims to demonstrate the reactivity and longevity of S-ZVI for treating residual chlorinated solvent sources via target injection. This poster presentation will highlight specifically how the subsurface microbial community and biological dechlorination are affected by S-ZVI injection, which prior studies have not fully assessed. This includes evaluating next generation sequencing analysis results for aquifer solid samples collected during the Phase I pre-design investigation at the selected Site, and samples collected from two treatability study columns.