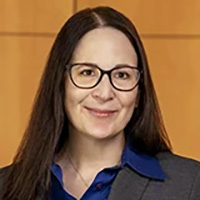 Stephanie Feingold
Partner
Morgan, Lewis & Bockius LLP
Stephanie R. Feingold represents clients in litigation and dispute resolution with a focus on environmental issues, and provides environmental and regulatory counseling. Her work spans investigations, cost recovery and contribution actions, and enforcement actions brought by and against environmental agencies and government authorities, as well as private party actions, under both federal and state environmental laws. She defends major corporations and businesses in toxic tort actions, commercial litigation, and product liability litigation. Stephanie also counsels clients in matters involving drinking water contamination and emerging contaminants, including per- and polyfluoroalkyl substances (PFAS) and 1,4-dioxane. Stephanie also works with potentially responsible parties (PRPs) in connection with contaminated sites, including working closely with consultants and experts, and negotiating with regulatory agencies.
With experience serving as coordinating counsel in multiparty litigations, Stephanie has managed common interest relationships and negotiated and litigated joint defense agreements. She also counsels clients through every phase of complex litigation, including document retention, discovery and ediscovery compliance, and privilege issues. Her clients include companies in the energy, pharmaceutical, chemical, electronics, telecommunications, automotive, mining, real estate, and manufacturing industries.
In addition to her litigation work, Stephanie is a certified Leadership in Energy and Environmental Design (LEED) Green Associate. Stephanie also handles environmental matters surrounding transactions, including coordinating with environmental consultants and government authorities. Stephanie also counsels clients with regard to compliance with the Federal Insecticide, Fungicide, and Rodenticide Act (FIFRA), the Toxic Substances Control Act (TSCA), and the FDA Green Guides in connection with the import, marketing and sale of various products in the US. Additionally, she advises on compliance with state single-use plastics bans, recycled content requirements, and bans on PFAS in consumer products.